Home-Guard Policy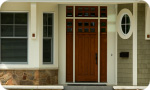 Thank you for considering the Home-Guard policy. This page should help you make an informed decision about the insurance coverages we offer and the coverages you need.
The Home-Guard policy provides outstanding protection for your most important asset — your home.
The policy offers a variety of coverages to protect your dwelling and personal property. It also offers protection against possible financial disaster from accidents or injuries occurring on your property or from your personal acts.
Property Coverages
Dwelling
The dwelling located on the described premises
Construction materials at the premises for use with your dwelling
Other Structures
Other structures located on the premises
Construction materials at the premises for use with other structures
Sidewalks and driveways
Privacy or decorative fences
Personal Property
Personal property located at the premises
Automatic coverage for personal property temporarily away from premises
Additional Living Expenses and Loss of Rents
Covers the increase in your living expenses while your property is being repaired or replaced
Covers the loss of rents you might incur while the rented portion of the premises is unfit to occupy
Additional Coverages
Debris Removal
Emergency Removal of Property
Necessary Repairs After Loss
Trees, Shrubs and Plants
Refrigerated Products
Outside Radio/Television Equipment and Satellite Dishes
Credit Card
Loss Assessment
Collapse
Home-Guard Select
If your home qualifies, you will be eligible for the expanded coverages offered by the Home-Guard Select policy. These additional coverages include:
Open perils coverage for the dwelling
Increased limits on additional coverages
Increased limits on certain items of household personal property
Replacement cost for the dwelling and household personal property
Premium Credits
Your home may qualify for a discount. Contact your agent for possible premium discounts.
Ask your agent for details on the various limits of coverage, our convenient payment plans and for other valuable features offered by the Home-Guard policy.
Personal Liability Protection
Public Liability
Coverage for claims made against an insured person for bodily injury or property damage arising from accidents or injuries occurring on the premises for which the insured becomes legally obligated to pay due to personal acts
Medical Payments
Provides coverage for medical expenses that arise from accidents or injuries occurring on the insured premises
Damage to Property of Others
Covers property damage to property of others which you borrow or use
Optional Coverages
Property
Fire Department Charges
Inflation Guard
Farm/Household Operations Records
Earthquake
Water Backup
Condominium Unit Owners
Scheduled Personal Property
Refrigerated Products
Replacement Cost for Household Personal Property
Liability
Incidental Business Activities
Business Pursuits
Home Day Care Provider
Incidental Agricultural Activities
Contractual Liability
Waterbed
Additional Insured
Additional Premises